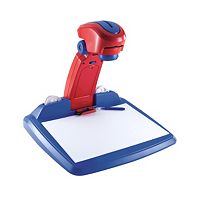 ELC – Projector Desk Blue
By ELC
Available to buy from Boots.com

£20.00
Description
80 Advantage card points. The Early Learning Centre Projector Desk is the perfect gift for encouraging fun creativity from your child. Includes over 40 images to draw and colour in. FREE Delivery on orders over £40.
Many toys, games and other gift for all ages at Boot are in a 3 for 2 offer until Christmas, with the cheapest item being free.
Barcode (EAN/UPC):
ELC – Projector Desk Blue
Available to buy from Boots.com
£20.00
Check availability and search for cheaper prices on:


By our best endeavours, all prices correct at the time of publishing. Please check retailer for latest prices, availability and delivery information.