New ELC Boys and Girls Playmobil Pirate Attack Ship 5135 Toy From 4 years from Early Learning Centre
|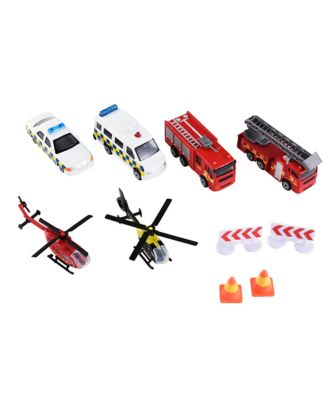 New ELC Boys and Girls Playmobil Pirate Attack Ship 5135 Toy From 4 years
£29.99
Buy now from Early Learning Centre
RETAILER'S DESCRIPTION
Hoist the flag. make ready the sails and set off on a grand adventure for treasure with the Playmobil Pirate Attack Ship. The four pirates have plenty of weapons and are ready to storm enemy ships: when a treasure island or enemy ship is spotted. drop the working anchor and let the battle begin! Flaps on the side of the pirate ship lift up to reveal the cannons below deck. and the two free cannons above deck can be loaded and fired.Once the treasure has been found. help the pirates put it on the loading crane and winch it onboard before stowing it away in the hidden compartment underneath the deck. After a hard day's work. lift the rear deck to revel the living quarters. where the pirates can count the treasure before having a well-earned rest.This Playmobil ship floats on water. and can also be used with the Playmobil underwater motor (not included) for hands-free sailing. The Pirate Attack Ship also comes with a joker coin that is used with the Playmobil Adventure Treasure Island (available separately).Includes large pirate ship. working hoist. working anchor. 2 cannons. 4 Playmobil pirates. treasure chest and accessories. Not suitable for children under 4 years due to small parts.
Supplier/Brand name : Playmobil
ELC SKU number (catalogue stock code): 134878
Bar code (EAN/UPC) : 11985
By our best endeavours, all product prices were correct at the time of publishing. Please check with the retailer for latest price, availability and delivery information on any listed merchandise. E&OE.